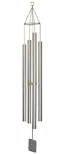 The 4-NOTE SUPER CHIME or Earthsong Carillon, is a precision hand-tuned baritone wind chime. It is also known as a wind carillon because of its large size. These incredibly resonant chimes have the most popular Grace Note tuning, Earthsong. 4-NOTE SUPER CHIMES are a tremendous buy. They are less expensive than the six-note carillons, but even though they have only four tubes, the sound is gorgeous.
·•·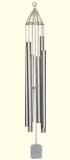 The 6-NOTE SUPER CHIME also called Treasure of Heaven Wind Carillon, is a precision hand-tuned baritone wind chime, also known as a wind carillon. This glorious six-note wind carillon with its 2 1/4 inch diameter tubes and six foot overall length makes it a treasure that will be enjoyed and appreciated by all who have the pleasure of listening to the songs of the wind. Treasure of Heaven prompts a contemplative mood with a soothing effect.
·•·

The DELUXE WIND CARILLON or Himalayan Echo Wind Carillon, is the "top of the line" of Grace Note Wind Chimes. The six 2 3/4 inch tubes of our largest wind chime (7-foot overall length) are suspended by a special method developed by Grace Note Wind Chimes to give the wind an instrument that will always provide soothing, clear, melodious tones. You will know that you have been blessed when the wind plays exquisite melodies on this wonderful, finely crafted, deeply resonant wind instrument.
·•·