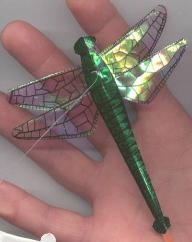 Blue, Red, Gold and Green Dragonflies




4¼" Wingspan
---
China Chicken
3¼" Wingspan
---
All kites in Will of the Wind's minature kite collection are handmade in the USA by Tom Tinney, award-winning kite maker of LittleKites. They happily fly indoors or outdoors, are fun conversation pieces, make unique gifts and are simply delightful.
Roll mouse over each image to enlarge.
* These beautiful and delightful little kites are no longer available for purchase, but this page will stay at Will of the Wind for you to enjoy viewing the craftsmanship of a master.
Swallowtail
4⅞" Wingspan
Stars & Moon
2⅞" x 3"
More Images:
Stars and Moon with penny
Click here to visit the kite maker's website